Scientific research expanded my horizons and made me comprehend the transformational power of science and the role it played in human progress. Without science we would still be cave dwellers. Science allows mankind to conquer the depths of the Earth, the abysses of the oceans, and to travel to the stars. Scientific advancements open the door to so many exciting professions, which sometimes seem unrelated.
Every competition enriched me as a student-researcher, a presenter, and, most importantly, with new friendships and a lot of fun. I also realized that as young scientists, we are public advocates for the promotion of science and our duty is to provide inspiration to younger students to engage in scientific research. Our generation will be faced more and more with resource scarcity and environmental concerns that we will have to address. We are the leading voice capable of taking these most pressing scientific issues across international borders in pursuit of global solutions.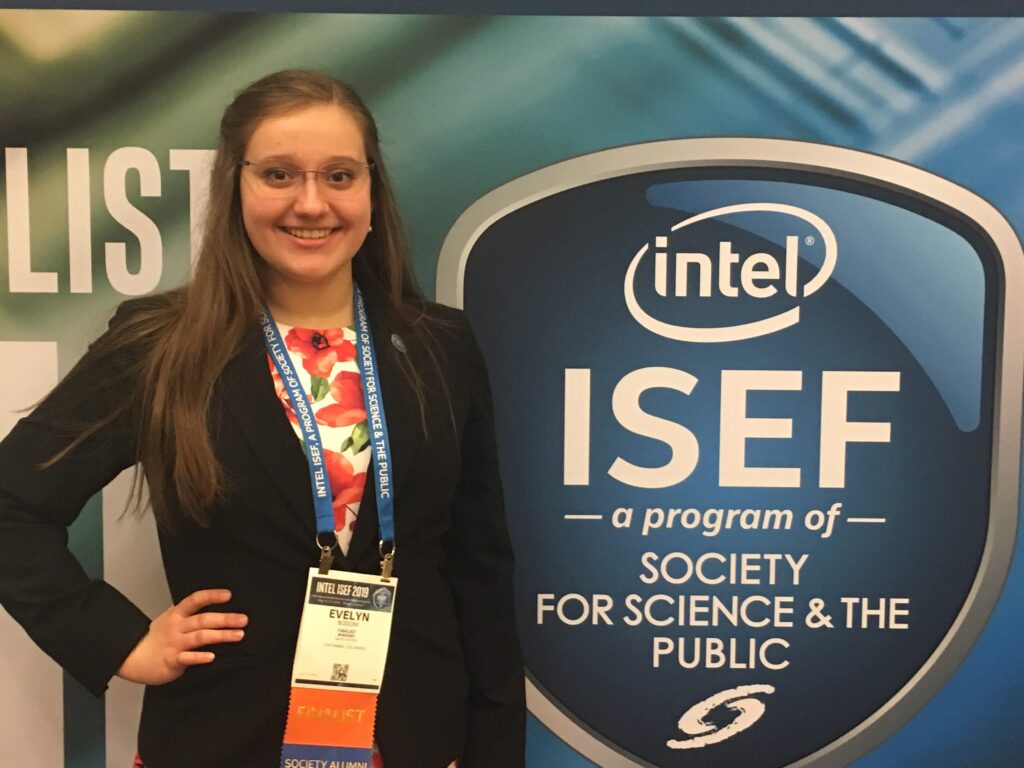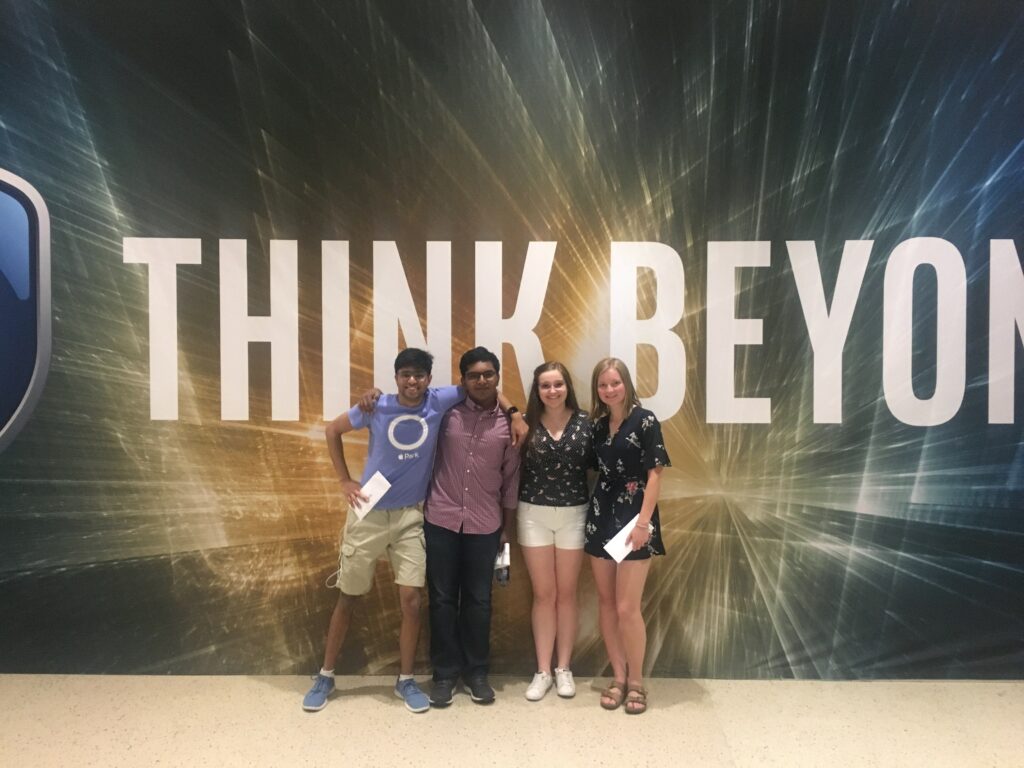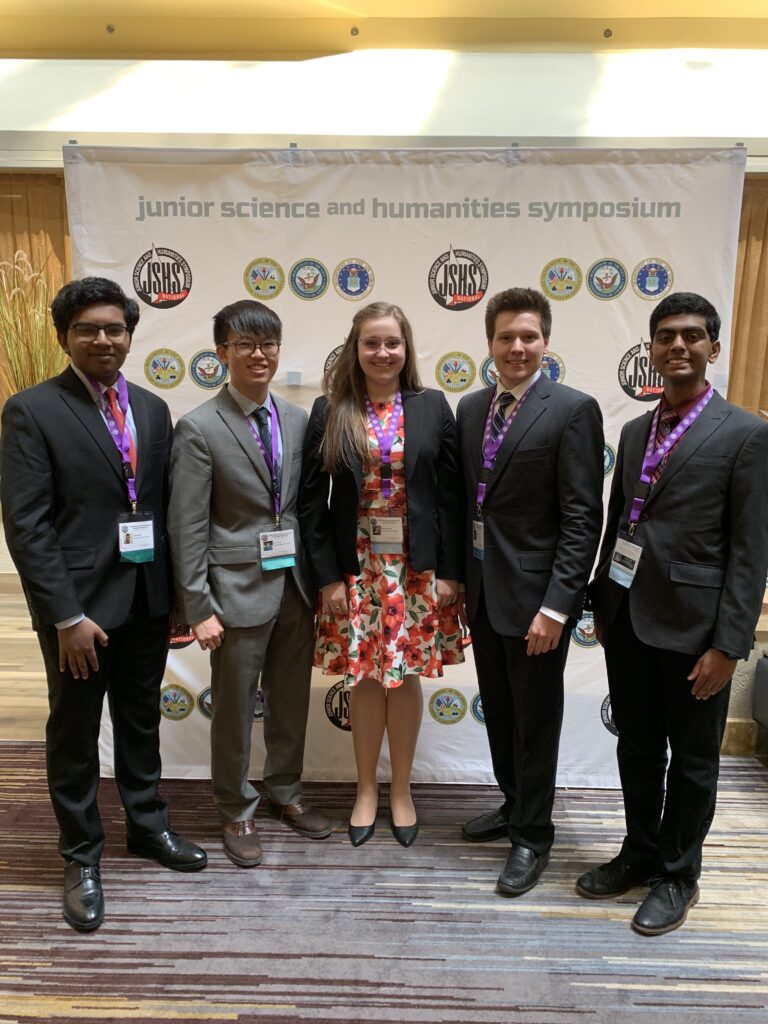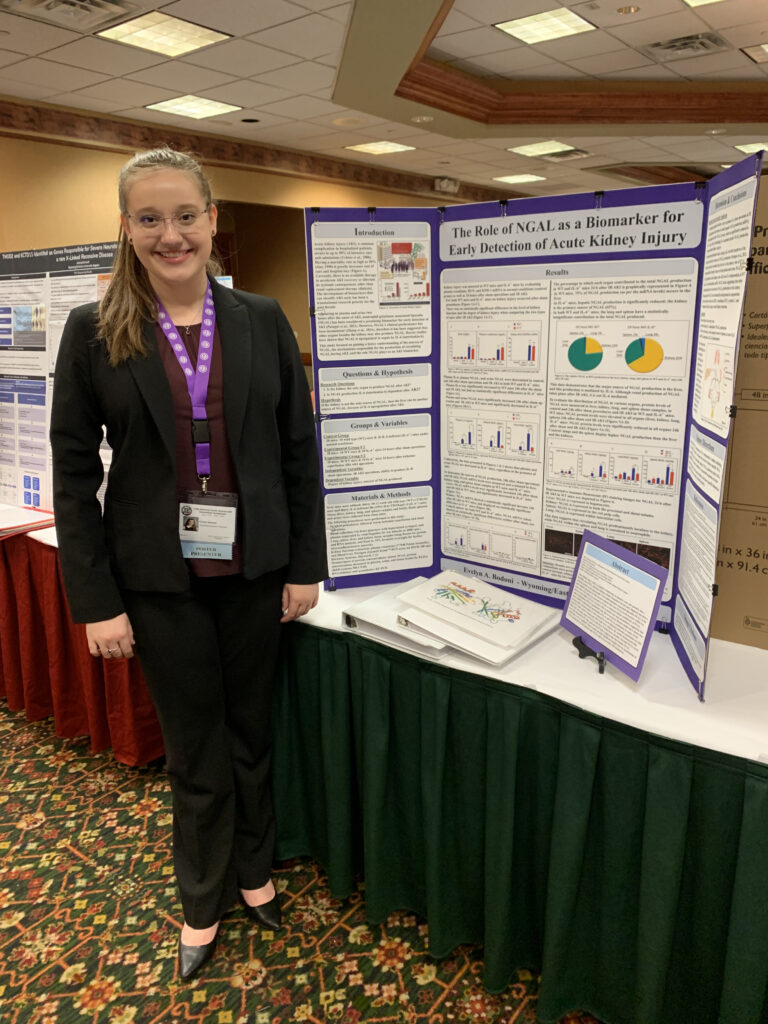 2019 Denver Metro Science & Engineering Fair, February 2019
Third Best in Show & First Place in Biomedical Sciences, 
Project: The Role of NGAL as a Biomarker for Early Detection of Acute Kidney Injury
 In an effort to decode the role of NGAL (neutrophil gelatinase associated lipocalin) as an AKI (acute kidney injury) biomarker, my project (The Role of NGAL as a Biomarker for Early Detection of Acute Kidney Injury) aimed to gain a better understanding of the sources of circulating NGAL during AKI. NGAL is the most studied biomarker of AKI. Despite extensive research already conducted, the ability of NGAL to predict AKI in patients has been inconclusive, suggesting that other mechanisms of NGAL production may also be involved. It is known that IL-6 (interleukin-6) upregulates hepatic NGAL production during infection and IL-6 is upregulated within hours of AKI onset. Therefore, I hypothesized that IL-6 would mediate the hepatic NGAL production during AKI. In this study, murine models of AKI induced by warm bilateral ischemia-reperfusion on wild type and IL-6 knock-out mice were utilized to evaluate the existence of a link between IL-6 and NGAL expression after the onset of AKI. My results provide significant insight into the mechanisms leading to increased plasma and urine NGAL levels and how these elevated values relate to AKI, thus greatly improving the understanding of the diagnostic potential of NGAL as an early biomarker for detecting AKI.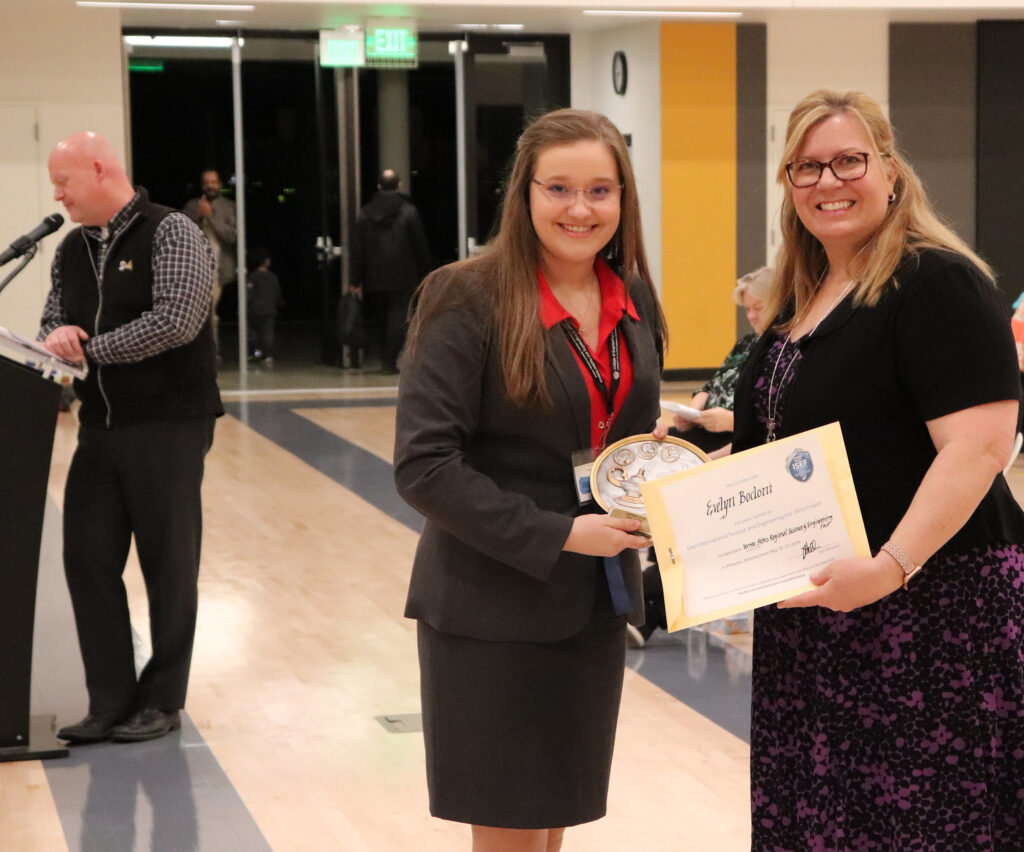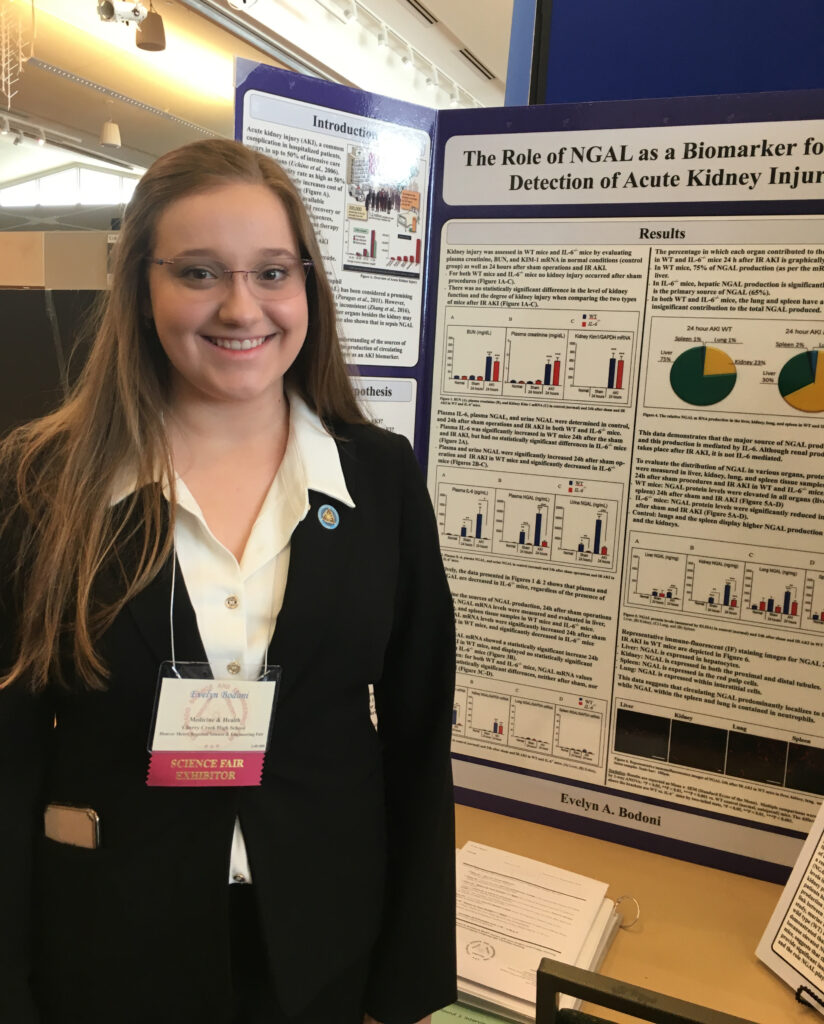 May 2018 – Intel International Science & Engineering Fair, Pittsburgh, PA
Intel ISEF 2018 was an extraordinary experience. By networking with other research-oriented students from all over the world, I learned so much about fields of science I did not believe I had an interest for and made me appreciate the enormous potential a career in science offers.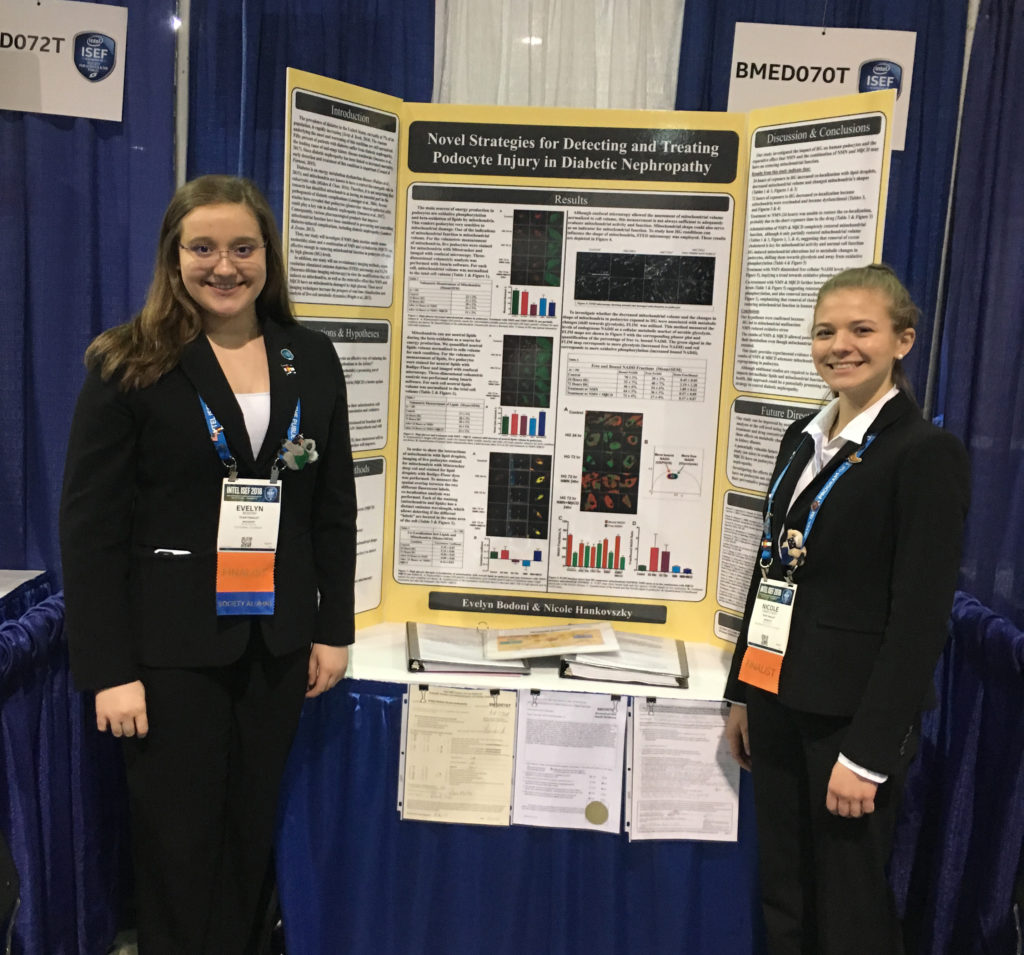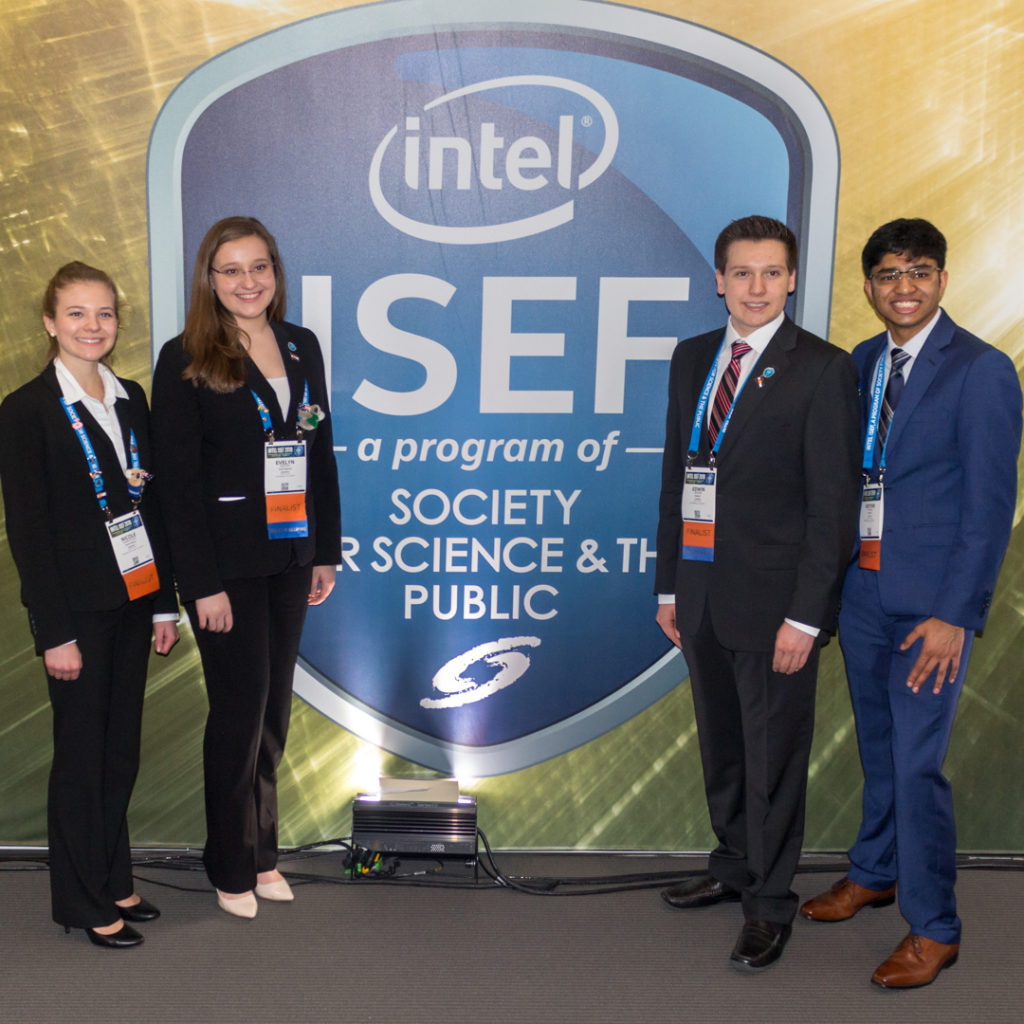 February 2018 – Denver Metro Regional Science Fair, Denver, CO
Fourth Place Best in Show and First in Molecular & Cell Biology,
Project: Novel Strategies for Detecting and Treating Podocyte Injury in Diabetic Nephropathy.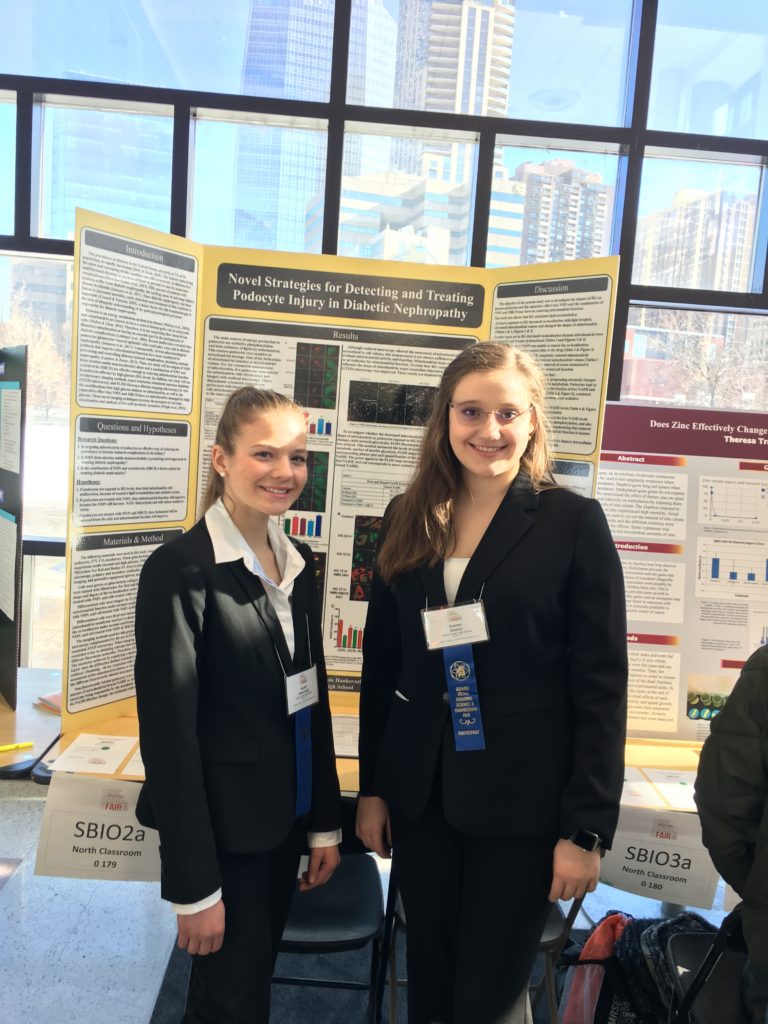 Evelyn Bodoni & Nicole Hankovszky at DMRSEF 2018
For this project, I partnered with another student, and worked over the summer and into the fall of 2017 at University of Colorado, Anschutz Medical Center. Our study (Novel Strategies for Detecting and Treating Podocyte Injury in Diabetic Nephropathy) investigated if supplementation with beta nicotine amide mononucleotide (NMN) or with a combination of NMN and cyclodextrin (MBCD) is effective in reducing podocyte injury in diabetic nephropathy. By utilizing advanced microscopy methods (confocal microscopy, FLIM (fluorescence lifetime microscopy), and STED (stimulated emission depletion microscopy), this study indicated that human podocytes which have been exposed to high glucose conditions and were treated with these pharmacological agents displayed improved mitochondrial function in vitro, thus this approach could be a potential therapeutic strategy for treating diabetic nephropathy.
April 2017 – Junior Science & Humanities National Symposium, San Diego, CA
National Finalist, Project Title: Hearts over Minds; in this study I investigated the impact several fundraising strategies had on high school students' inclination to donate to charity.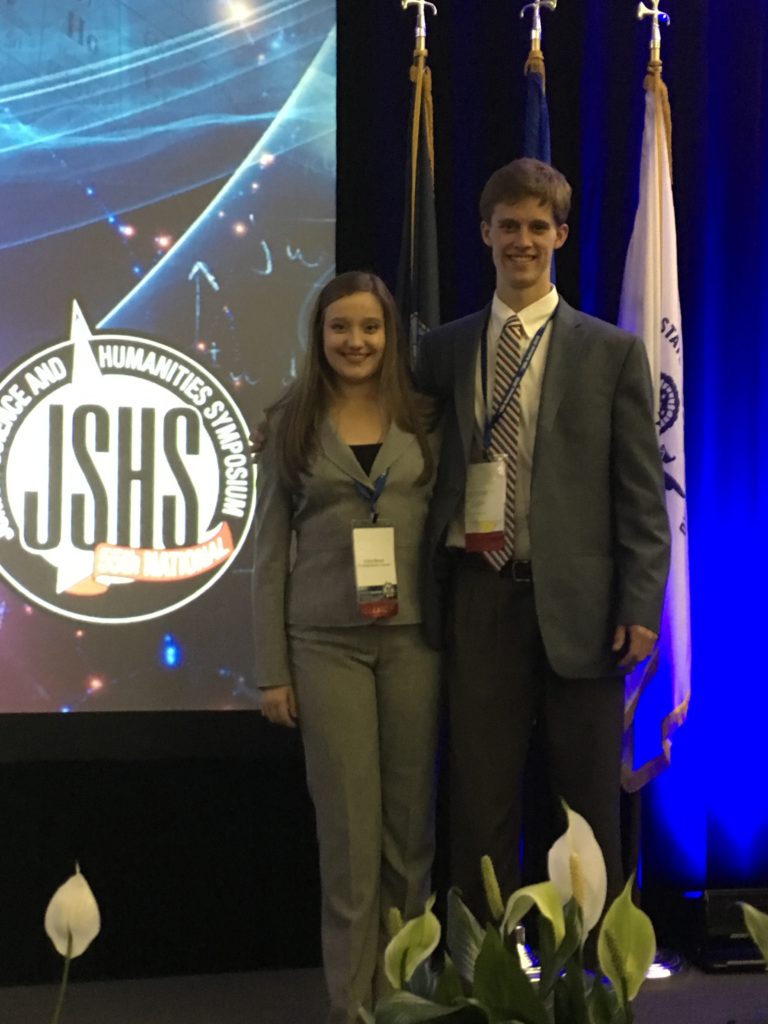 May 2016 – Broadcom MASTERS Internationals, Phoenix, AZ
I was one of the two United States delegate to Broadcom MASTERS Internationals, which took place in Phoenix, Arizona, at the same time with the 2016 Intel ISEF. I had the opportunity to network with like-minded peers from all over the world, learning from each other, exchanging ideas, and discussing our projects. I won the Leadership Award.
At 2016 Intel ISEF with Edwin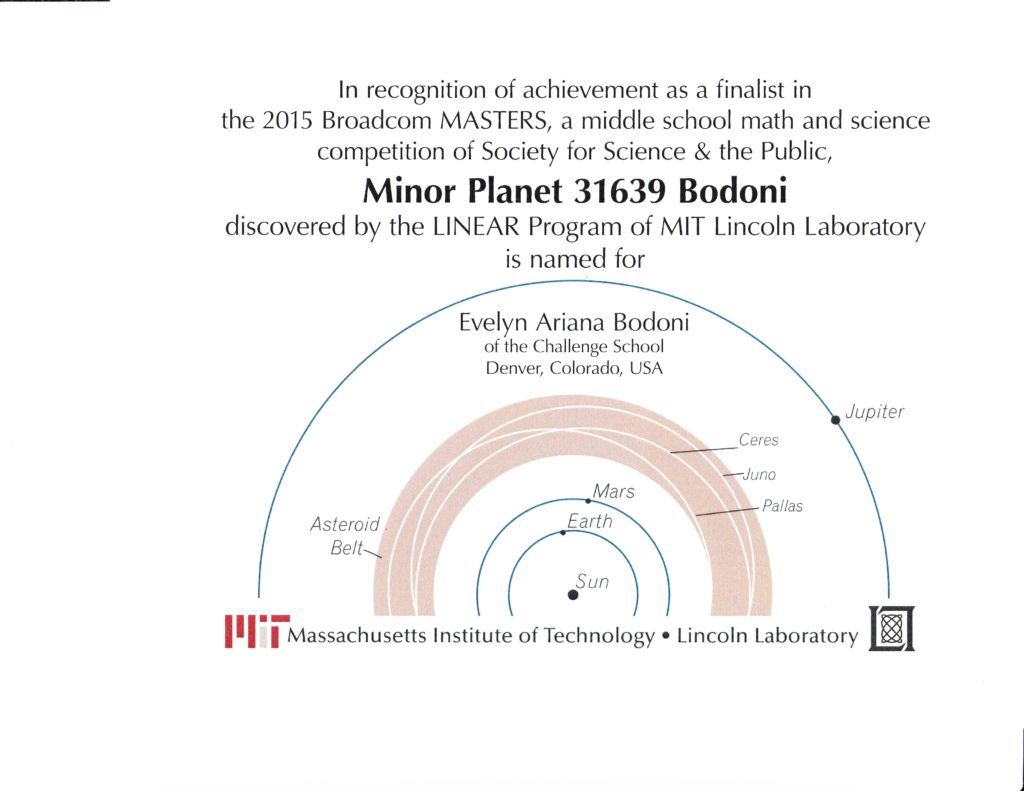 October 2015 – Broadcom MASTERS Nationals, Silicon Valley, CA
Always intrigued by human behavior, in my first ever science fair project (Whatever It Takes), I decided to examine the reasons middle school students engaged in academic dishonesty. Besides competing at Denver Metro Science Fair and at the Colorado State Science Fair, I also entered my project at Broadcom MASTERS, and to my ultimate surprise, I was selected one of the 30 national finalists. At the Finals, I won the Rising Star Award and was one of the two United States delegates to Broadcom MASTERS Internationals (Phoenix, AZ, May 2016).